Mon 8a.m.–7p.m
Tues 8a.m.–7p.m
Wed 8a.m.–6.30p.m
Thurs 8a.m.–6.30p.m
Fri 8a.m.–6p.m
Sat 9a.m-4p.m
Sun CLOSED
Tel: 021 4321 729
E-Mail: info@sunflowerclinic.ie
The Sunflower Clinic Unit 1 Tramore Commercial Park Tramore Road Cork T12 E796
Occupational Therapy Staff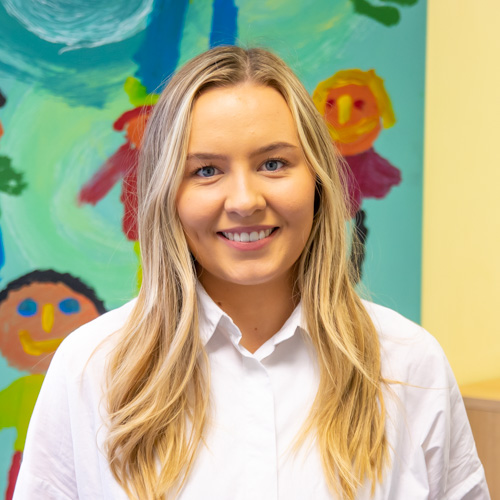 Paediatric Occupational Therapist
View Bio
Carol is an Occupational Therapist graduating with a First Class Honours degree from University College Cork (UCC). She joined The Sunflower Clinic team in January of 2021 and has since managed a diverse caseload of clients, working with children of various abilities through assessment and treatment sessions. Carol was awarded 'Best Research Project 2020' by the Occupational Therapy Department in UCC for her research on school-based practice from the perspective of paediatric occupational therapists working in Ireland. This research paper has since been published in the 'Occupational Therapy International' journal. Carol has recently completed her DIR Floortime 101 training course and is currently furthering her studies by undertaking the Sensory Integration Module 1 course.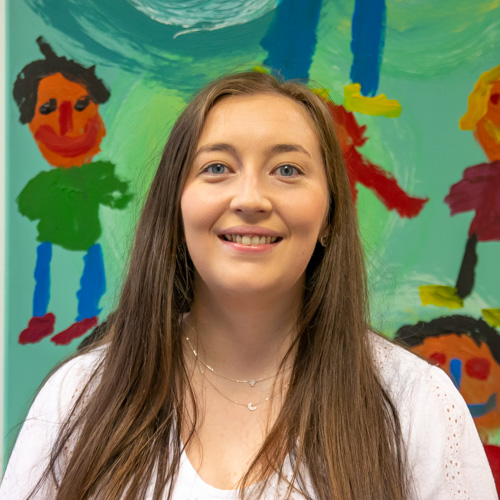 Senior Paediatric Occupational Therapist
View Bio
Emma joined the Sunflower Clinic in January 2017, having graduated with a First Class Honours Degree in 2013 from UCC. Since joining the team, Emma has completed several continuous professional development training courses including ADOS-2, Handwriting Without Tears, Sensory Integration Module 1, DIR Floor Time 101, Assessing Play ToP to TOES, Children's First, Sensational Babies: Meeting Sensory Needs in Early Intervention, Lámh Module 1, YouCan Promote: Emotional Regulation in Autistic Children, YouCan: Understand Anxiety, and An Introduction to the BrainWorks Approach to Effective Sensory Diets. Emma has supported children with Autism Spectrum Disorder, Developmental Coordination Disorder, Sensory Processing Difficulties, ADHD, Down Syndrome, behavioural and emotional difficulties. She has worked with children and families in both a one on one and group setting, having organised and facilitated a number of groups and summer camps within the clinic, including handwriting groups, social skills groups, Lego groups and a get ready for school group. In addition, she has also devised and implemented school based occupational therapy programmes for children in a local primary school and enjoys providing Sensory Circuits training for teachers, empowering teachers to implement activities within the school environment to ensure that children can achieve sensory regulation within the school environment and continue to thrive within this environment. Emma has a strong interest in supporting children with additional needs and their families and believes that providing therapeutic intervention sessions that are playful and fun are essential for a child to grow and learn.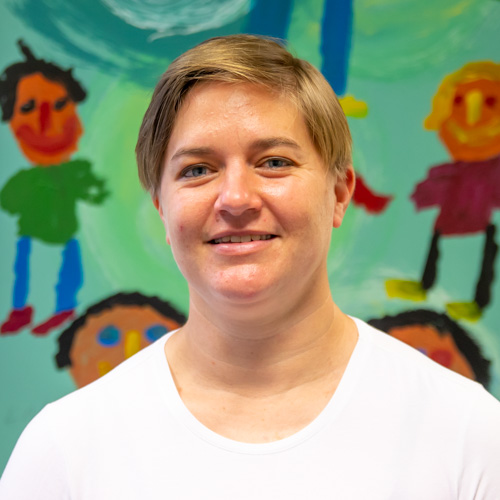 Juanita Galloway O' Regan
Senior Paediatric Occupational Therapist
View Bio
Juanita graduated from the University of Witwatersrand in South Africa in 2006 with a Bsc (Hon) O.T. She has over 12 years' experience working in the field of Paediatrics and has worked for a number of services including private practice, Child and Adolescent Mental Health Services and CoAction. While in CoAction, Juanita was employed as the Head of Service for the Occupational Therapy Department. As part of her clinical role she worked as a member of the Progressive Disability team in Clonakilty and provided an OT service for children presenting with complex developmental needs. Additionally, she was involved in caseload management, service management, risk assessment and supervision of Basic Grade therapists. Juanita has a keen interest in continuing professional development and has undergone training in Sensory Integration, visual perception, SOS feeding, DIR floortime, Sensory Regulation for Infants and Toddlers and ABLE training for relation based brief interventions. Juanita has a special interest in providing early intervention for children presenting with complex developmental needs and has extensive experience in this area. Juanita works Mondays-Tuesdays 7:30- 20:00 in the Cork Clinic and provides telehealth consults to parents and schools on Wednesday mornings.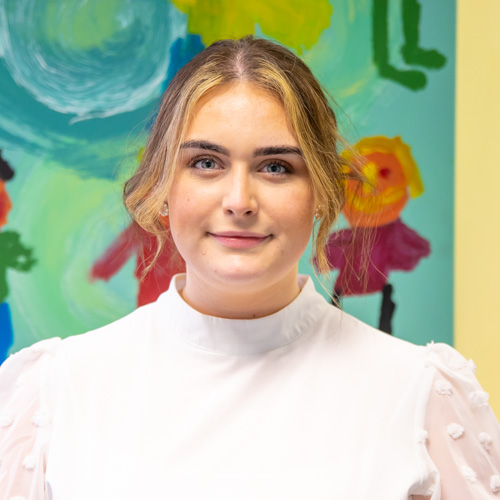 Paediatric Occupational Therapist
View Bio
Kirsty is a recent graduate of the Masters of Occupational Therapy course in the University of Limerick, having previously completed an undergraduate degree in Social Science at University College Cork. Kirsty completed 3 Paediatric placements during her clinical training as part of her Masters, which included Child and Adolescent Mental Health, Disability Services and a placement with DCD/Dyspraxia Ireland. Kirsty has a passion for working with children and brings a vibrant enthusiasm to her role as a paediatric occupational therapist that is valued by both staff and clients.
Paediatric Occupational Therapist
View Bio
Michaela is a Paediatric Occupational Therapist, graduating with a Masters in Occupational Therapy from the University of Limerick. She also completed a BA in Drama and Theatre Studies and French at University College Cork. Michaela has experience working with children of all ages having been involved with Children's Disability services, Primary Care Community services and Child and Adolescent Mental Health services.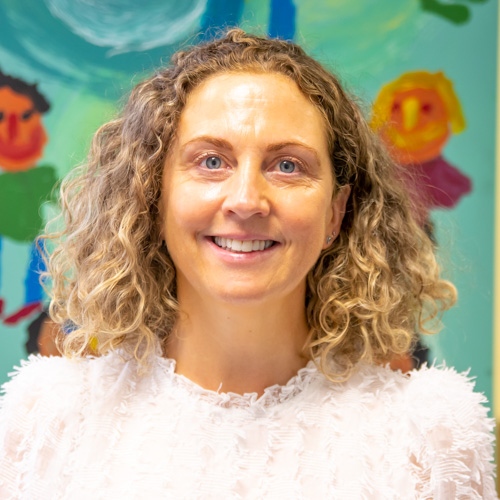 Head Occupational Therapist
View Bio
BSc. Occupational Therapy MSc. Sensory Integration Theory and Practice Sensory Integration Advanced Practitioner Member AOTI Member Sensory Integration UK/Ireland Julie is a graduate of Dublin University, Trinity College, with over 25 years experience of working with children in Ireland, UK and Canada. Julie established The Sunflower Clinic in Cork in 2006 to provide occupational therapy services for children in the local area. The clinic has now grown to 8 clinics in Munster and Leinster and has helped over 15,000 children to improve their daily lives. Julie is an Advanced Practitioner in Sensory Integration and completed her masters in Sensory Integration – Theory and Practice, one of only a handful of therapists in Ireland with this award. In 2016, Julie set up an independent multi-disciplinary team providing assessment and treatment services for children with ASD. Julie is passionate about delivering the best possible service for children and their families and in further developing the awareness and effectiveness of early intervention when working with children with a range of developmental needs. Julie actively supports the importance of clinical supervisor and regularly supervises her staff and is a supervisor on Sensory Integration Network panel of advanced practitioners. Julie has presented at national and regional conferences and is also a trained expert witness for legal cases. Julie has also provided in-service training courses to 'Headway Ireland' and other organisations around sensory processing and sensory modulation. Relevant training Sensory Integration Advanced Practitioner Sensory Integration Praxis Test (SIPT) Bobath (NDT) Practitioner Therapeutic Listening Programme – certified practitioner Autism Diagnostic Interview-Revised (ADI-R) Autism Diagnostic Observation Schedule (ADOS) Trained in DIR floortime Trained in Sensory Modulation and Regulation intervention with adults (Tina Champagne) Astronaut Training Programme Bayley Scales of Infant and Toddler Development – Registered Practitioner Handwriting without Tears Currently training to be a Creative Mindfulness practitioner for children Completed the 'Ag Eisteacht' ABLE training Course Certificate in @Harnessing the power of interoception and Proprioception' – Sheila Frick Vital Links Trained in 'Developing Ocular Motor and Visual Perceptual Skills' in infants and children Is it Sensory or is it Behaviour? – Behaviour problem identification, assessment and Intervention Assessment and Treatment of Sensorimotor, Attentional, and Emotional Problems in Infants and Young Children – Georgia Degangi Trained in the Test of Sensory Functions in Infants - Georgia Degangi & Stanley I Greenspan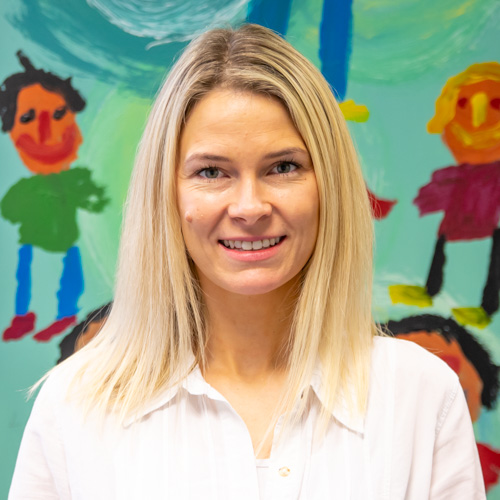 Senior Paediatric Occupational Therapist
View Bio
Jessica graduated from University College Cork with a First Class Honours Degree in Occupational Therapy in 2014. Since joining the clinic in 2015, Jessica has managed a diverse caseload of children with complex needs, from babies to late teens. Prior to this, Jessica worked with children with a range of physical and intellectual disabilities, in clinic and home-based settings. Jessica completed her certification in Sensory Integration (Course 1, 2, & 3) from the University of Southern California in 2017. She also completed an Infant Sensory Integration Workshop by Meg Faure in London, 2018. Furthermore, Jessica completed online training in Sensational Babies: Meeting Sensory Needs in Early Intervention. Over the years, Jessica has noticed a rise in the number of children experiencing worries and anxiety particularly at a young age and draws on her past experience as a Complementary Health Therapist to encompass a holistic and relaxing approach to therapy. Building on this, Jessica is currently completing her training as a Creative Mindfulness Kids Practitioner with the view to provide her clients with useful tools to help calm their mind and body. Jessica has an interest in creating sensory experiences and spaces and designed the sensory room in the Cork clinic, a space regularly used and enjoyed. Jessica continues to build on her professional development and to name a few, has completed courses on: • Primitive Reflexes: Screening, Compensation Techniques, and Treatment • Childhood anxiety • Visual Perception and Its Impact on Learning: Strategies and resources • ADHD 101: Understanding the Essentials • Qualified Baby Massage Instructor/IAIM • Sensory Integration for Individuals on the Autism Spectrum • Sensory Integration in School Based Settings • Lámh Certificate– Jessica is a member of Down Syndrome Ireland • Jessica is currently undergoing training in DIR and DIR Floortime Jessica enjoys working with children of all ages and abilities, she is a fun-loving OT and is very passionate about supporting every child's development through playful opportunities including her own two children.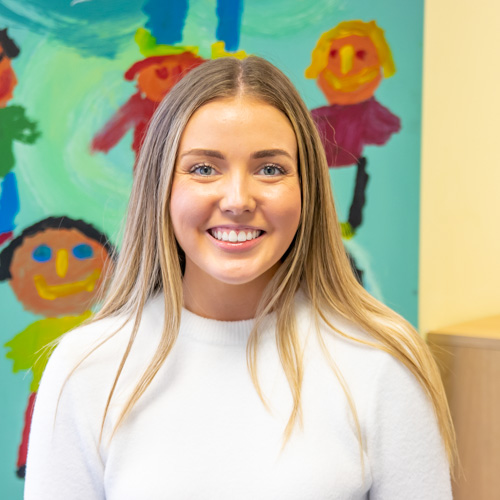 Paediatric Occupational Therapist
View Bio
Olivia graduated from University College Cork in 2020. She has managed independent caseloads in a variety of different placement settings in college, including in Child and Adolescent Mental Health in her final year. She was awarded the Summer Undergraduate Research Experience (SURE) Award from University College Cork in 2019. Olivia has recently completed the DIR Floortime 101 course and is currently undertaking the Sensory Integration Module 1 course form Sensory Integration UK & Ireland.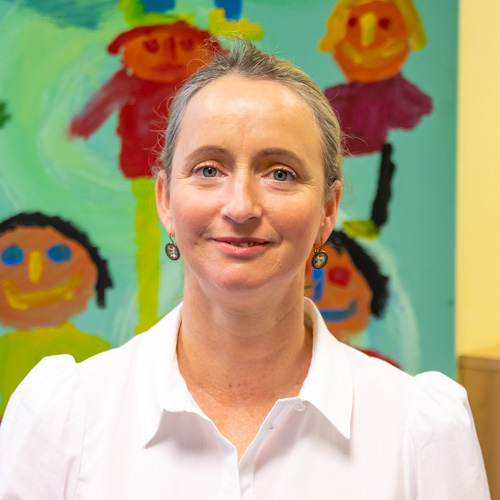 View Bio
Karen joined the Sunflower Clinic, Cork as receptionist in August 2020. Karen has worked in a variety of customer-facing roles in her career including working in the hospitality and food sectors. Karen's always friendly and welcoming personality puts children at ease when they first come to our clinic and is a valued member of our team.
View Bio
Sarah joined us as a receptionist in August 2021. After years in various customer facing roles, I am certainly a people person who is passionate about making our clinic a pleasant and welcoming space. Having a child with ASD myself, I feel like I have a personal connection with parents and children alike who enter the clinic and hope to make their visit as warm and friendly as possible.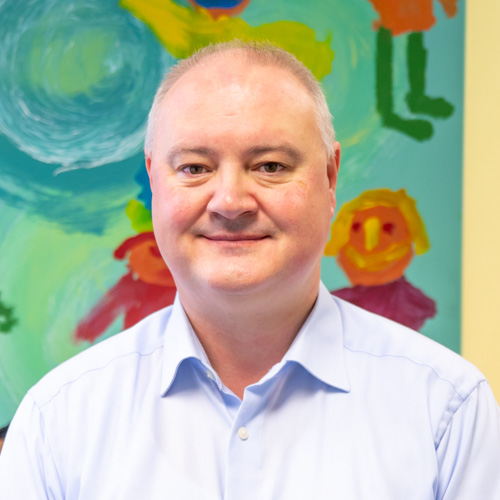 View Bio
Mark graduated from Trinity College Dublin with degrees in Mathematics and Computer Engineering in 1991 and spent 15 years working in the IT industry. Mark then completed an MBA at London Business School and went on to work in the business consultancy sector advising startup companies on behalf of Enterprise Ireland. He then joined a Cork-based startup healthcare technology company as Business Development Director and spearheaded their growth throughout Ireland, Northern Ireland and the UK, quickly establishing the company as the largest provider in its sector. Mark then joined The Sunflower Clinic in a full-time role in 2015 and together with Julie has led its expansion to its current state where it employs over 30 permanent staff across three locations. Under Mark's guidance, The Sunflower Clinic has streamlined its IT systems and procedures and helped the clinic to grow sustainably and organically, whilst focussing on its core mantra –"The needs of the child comes first, always". Mark has coached all three of his daughters in a local GAA team, served as club secretary and now coaches his son at underage rugby for the past 6 years.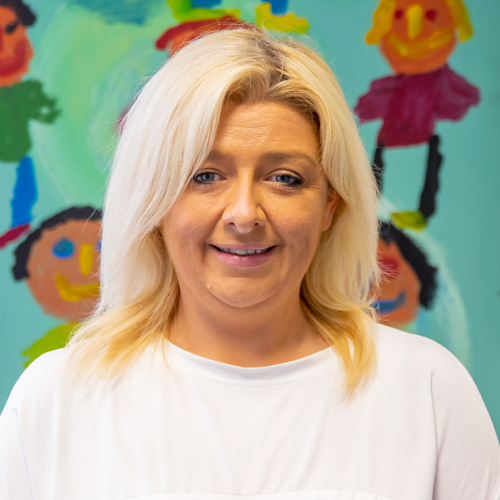 View Bio
Hello I'm Cara, I joined the Sunflower Clinic in 2021 as the Office Manager. I have twenty plus years experience in administrative, Office Management, Human Resources, and Finance. Together with the Clinical Directors I have helped the Clinic grow and I have assisted in the development and implementation of office policies and procedures. I manage and oversee the administration of policies, programs and practices. I co-ordinate staff within the Clinic and maintain accounts payable and receivable. I look forward to meeting you in Clinic.
Speech and Language Therapy Staff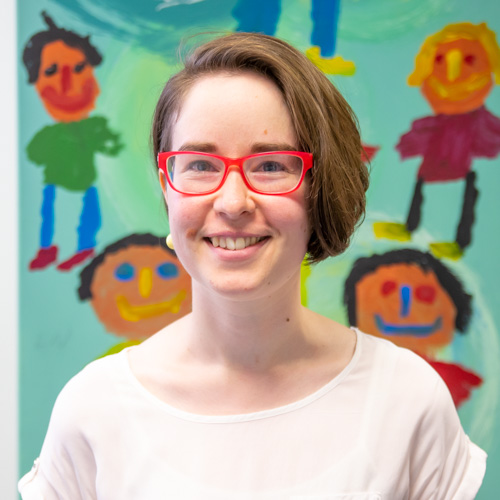 Speech & Language Therapist
View Bio
Since graduating from University College Cork in 2015, Caitríona has spent time working as a Speech and Language Therapist in both Ireland and the UK, including time with both the HSE and NHS. She has a strong interest in working with children with Speech Sound Disorders and Developmental Language Disorder, but has worked with children aged 1-18 with a wide range of communication difficulties in clinics, schools, preschools and community groups, and provided training to parents, teachers, SNAs, childcare staff, and other healthcare professionals. Empowering families and supporting functional communication are central to the intervention she provides. Caitríona is trained in the administration of the ADOS-2 diagnostic tool for Autism for children as part of a multi-disciplinary team.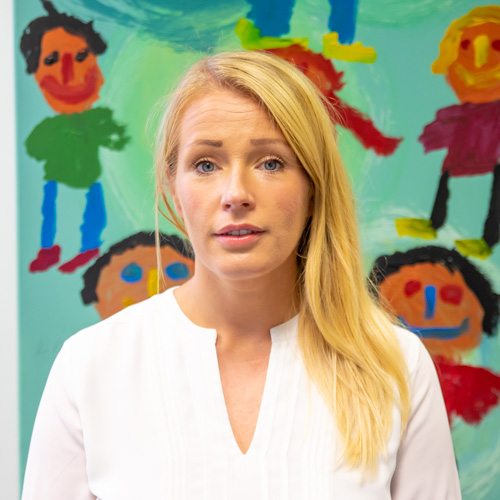 Senior Speech and Language Therapist
View Bio
Charlotte is a Paediatric Speech and Language Therapist who joined the Cork Team in March 2021. She qualified with an honours BSc degree in Speech and Language Therapy from Leeds Beckett University in 2010. Charlotte is CORU registered, and a member of the Irish Association of Speech and Language Therapists. Charlotte has worked in a variety of paediatric settings including community clinics, mainstream schools, preschools and special schools in Ireland and the UK. She has received additional postgraduate training in Paediatric Dysphagia, Attention Autism Programme, Alternative and Augmentative Communication and Picture Exchange Communication System. She is also trained in sign systems including Makaton and Lámh. Charlotte has over 10 years' experience working with children with speech, language and communication needs. She is passionate about supporting families and helping children to reach their full communicative potential. Charlotte completed her ADOS-2 training in Trinity College Dublin has become a valued member of our multi-disciplinary team assessing children for Autism.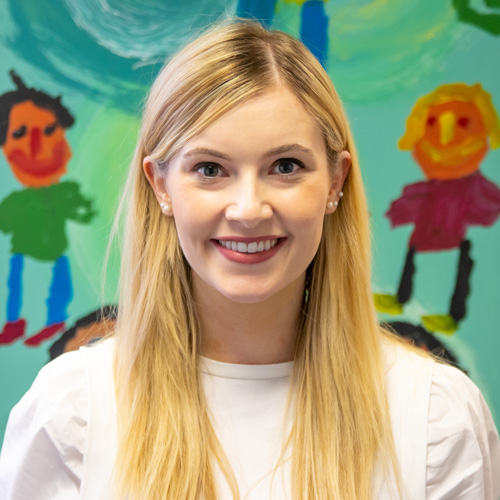 Speech & Language Therapist
View Bio
Katie Cronin graduated from University College Cork with a BSc Honours in Speech and Language Therapy. During her academic training, she gained valuable experience working across a range of settings including community clinics, primary schools and rehabilitation clinics. Katie has worked with children with a range of speech, language and communication needs including speech and language delays and disorders, autism spectrum disorder, complex needs and many others. Katie is CORU registered and looks forward to joining the Sunflower team and working with clients and their families.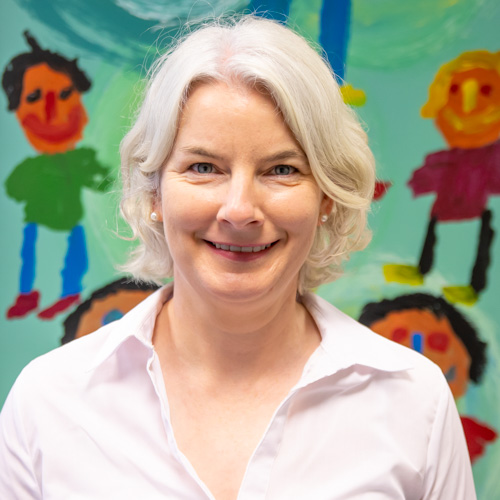 Senior Speech & Language Therapist
View Bio
Yvonne is a Senior Speech and Language Therapist with extensive experience working with a diverse caseload in a variety of paediatric settings in the UK and Ireland since 2013, including preschools, mainstream schools, early years clinics, a special school for children and young people with Autism Spectrum Disorder and a specialist early years setting for Deaf and partially hearing preschool children. She is trained in the Parent-Child Interaction Therapy Approach, 'Hanen More than Words' programme, Picture Exchange Communication System (PECS) and Gina Davies Attention Autism programme. She is also trained to administer the ADOS-2 assessment and ADIR parent interview as part of the multi-disciplinary assessment team.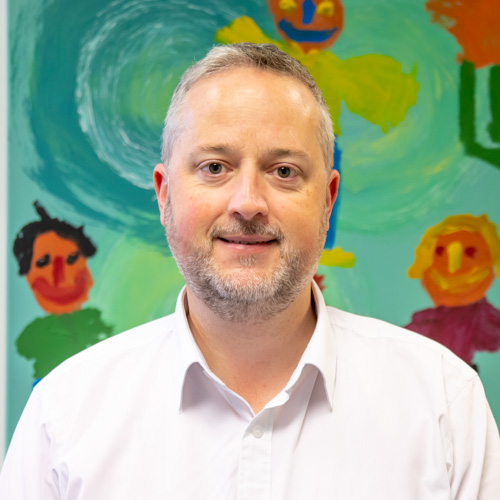 Senior Clinical Psychologist
View Bio
Martin Donnelly qualified cum laude as a Clinical Psychologist in 2002 from Rhodes University, South Africa. He is registered as a Chartered Psychologist with the Psychological Society of Ireland (M10543C), having completed the Clinical Psychologist Validation process with the Irish Department of Health, prior to relocating with his family to Ireland in 2019. After completing his internship at Fort England Psychiatric Hospital in Grahamstown, South Africa, a city of 100 000, Martin became the Psychosocial Services Manager at Grahamstown Hospice until 2006. He co-founded the Psychological Care Centre in 2007, a private group clinical psychology practice that has grown into a prominent provider of lifespan psychological assessment and treatment services in the Eastern Cape province of South Africa. Martin was a guest lecturer, and a Clinical Supervisor to Training and Intern Psychologists at Rhodes University and Fort England Psychiatric Hospital for a decade, as well as a Consultant Clinical Psychologist in Palliative Care for the World Health Organisation. He served as the Chair of the Grahamstown Hospice Board for many years, as well as being a member of the national Hospice Palliative Care Association's Ethics, and Research Ethics Committees. Martin joined the Sunflower Clinic in 2020 from The Kids Clinic in Carrigaline, where he was a Senior Clinical Psychologist heading up an Autism assessment multidisciplinary team. He brings twenty years of clinical experience with child, adult and family interventions, and has a special interest in Autism, and in adolescent mental health.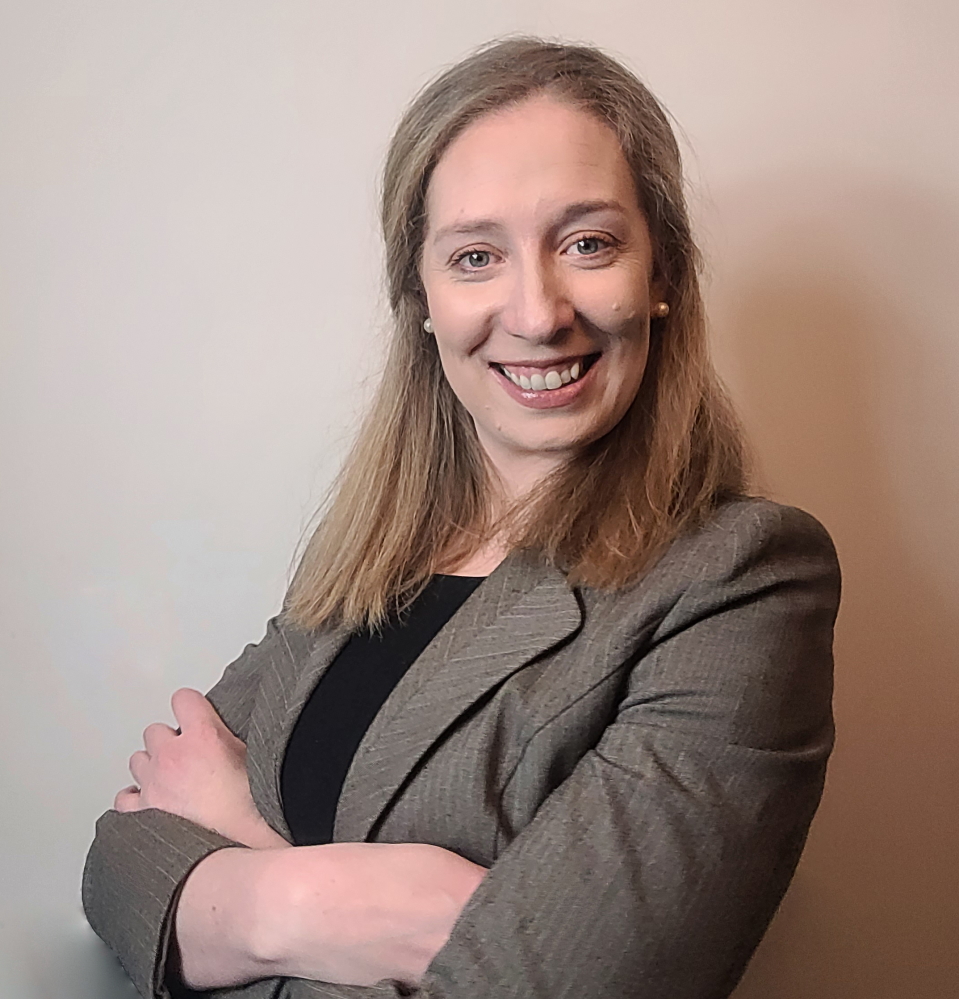 Educational & Child Psychologist
View Bio
Rachel has over 10 years of working with children and young people in her capacity, initially as a trainee educational psychologist and later as a qualified educational psychologist. She is registered as a Chartered Psychologist with the Psychological Society of Ireland (M10322C). Having trained in the UK, she also maintains her registration with the Health and Care Professions Council (HCPC) (No. 30875). Rachel completed her doctorate in Educational and Child Psychology at the University of Birmingham between 2010 and 2014. She completed her thesis on children in the care system and has since developed a specialist interest in this area. Since qualifying she has worked as a Local Authority educational psychologist, and as a child and family therapist in the charity sector. She has also worked as part of a multi-disciplinary NHS team concerned with the diagnosis of ASD in young children. She is trained in a diverse range of therapeutic approaches including Dyadic Developmental Psychotherapy (DDP), Theraplay and Video Interaction Guidance (VIG). In addition to her interest in the field of developmental trauma, she has specialist interests in ASD and in early development. She is particularly interested in how the retention of primitive reflexes may be linked to the development of later higher level processes such as reading and writing. Rachel operates a private psychology practice in Galway and is the company director of Solas Psychology Ltd. In addition, Rachel has experience of guest lecturing to doctoral students at the University of Birmingham and of delivering bespoke training to a wide range of audiences, including teachers, social workers and residential care staff, on the impact of developmental trauma on children's development amongst other topics. In addition, Rachel is an enthusiastic amateur interior designer and indoor plant grower and enjoys exploring the beautiful countryside around where she lives in Galway.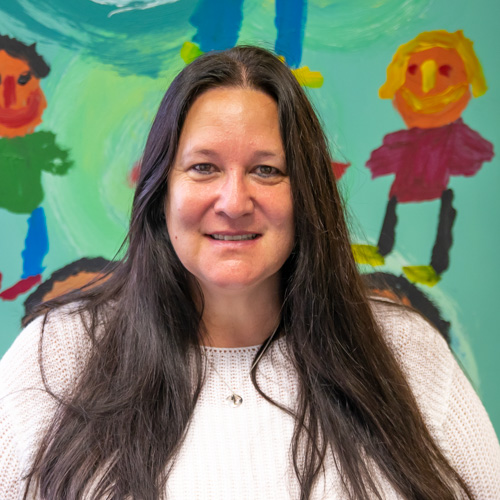 Senior Educational Psychologist
View Bio
Yvonne Lion-Cachet is a licensed Educational Psychologist with 'The Psychological Society of Ireland' (PSI) as a Graduate Psychologist (M11134) and with 'The Health Professions Council of South Africa' (HPCSA: PS0116068) with 22 years of experience in the field of education and over ten years of experience as a psychologist focused on assisting and equipping individuals with insight and understanding to love knowledge and rise to be their very best. She provides individual and group psychotherapy with an emphasis on positive psychology and holistic wellbeing for fully engaging one's strengths and enhancing learning ability. Yvonne is grounded in Cognitive Behaviour Therapy drawing on from Positive Psychology and other psycho-therapeutic perspectives. Her approach is always client centered and best practice. She has worked with trauma, emotional dysregulation, self-esteem, academic difficulties, bullying, anger management and self-control, emotional intelligence, relational difficulties, stress/ anxiety, bereavement and identity. Studying the impact of Emotional Intelligence in relation to ones overall success and well-being is important to her. Her master's dissertation was 'The role of emotional intelligence in the elite school athlete.' Yvonne worked as the resident psychologist at a private primary and secondary school as 'Head of Wellness and Positive Psychology' before immigrating to Ireland in July 2021. Prior to her position there, which started in 2013, she had her own private practice. She found it hugely beneficial having taught various grades before embarking on her psychology path which includes the assessment of learning difficulties. Yvonne offers Educational Psychology assessments, Play Therapy and Cognitive assessments as well as being a valued member of our multi-disciplinary team in the assessment of Autism. Highlights: ● Speaker at (International Boys' School Conference) IBSC conference held in 2017- "Self-regulation: Enhancing Response Inhibition". ● Speaker at National Positive Psychology Conference , providing feedback on the 6th World Congress on Positive Psychology Conference that she attended in Melbourne (18-21 July 2019).
If your enquiry revolves around Psychology please use the following contact form instead
The Sunflower Clinic provides a wide range of therapy services for children. Our multi-disciplinary team of experienced clinicians are ready to support you through a wide range of services
The Sunflower Clinic provides a wide range of therapy services for children. Our multi-disciplinary team of experienced clinicians are ready to support you through a wide range of services
The Sunflower Clinic provides a wide range of therapy services for children. Our multi-disciplinary team of experienced clinicians are ready to support you through a wide range of services